You be the Judge!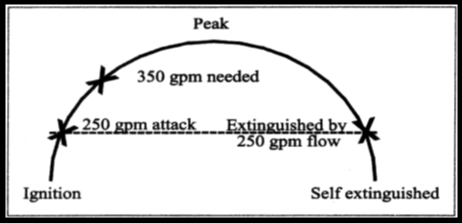 Figure 1 represents a fire evolution, which begins at ignition and then grows until it reaches its peak, then diminishes to the point where it has consumed all available fuel and extinguishes itself. Your confrontation with fire is like a boxing match, except in this match the first three-minute round is the most important. If the match goes beyond the first round you're typically the loser since you can't win a decision and there are no draws. Refer to the fire curve and imagine that upon arrival at this fire, its size requires a fire stream flow of 350 gpm to achieve suppression.If you attack with the needed 350 gpm or greater we will overcome the BTU's being generated and achieve suppression relatively quick. If you attack with only a 250 gpm flow, you'll notice some darkening and think you're doing great, but the fire still slowly grows, to a point where it appears you're gaining. Noticing the fire receding as your attack continues you announce the fire is under control. You continue your fight until the fire is out and you're pleased because you did another great job of putting out the fire. Have you? Did you really attack the fire, or just prolong the inevitable? Your initial attack flow of 250 gpm was less than the required flow for extinguishment on the incipient stage of the fire. Your long hard fight slowed the fire, yet it continued its growth until reaching its peak, then diminished to the size where your 250 gpm flow rate finally extinguished it on the back side of the fire curve.
Fighting fire on the backside of the curve is jokingly referred to in the fire service as "saving foundations". With this in mind, ask yourself a few questions and be "honest" with your answers!
Which attack required the most time, water, manpower, equipment and associated expenses as well as a higher risk of injury?
Which attack method offered a possibility of saving cherished belongings?
Most important, which attack method stands a better chance of saving lives?
First Strike Technologies, Inc.
Presents
---
Home
|
Basics
|
Streams
|
FAQ's
|
Says Who
|
Products
|
Features
|
Testimonials
|
More Info
|
About
|
Contact